The Bands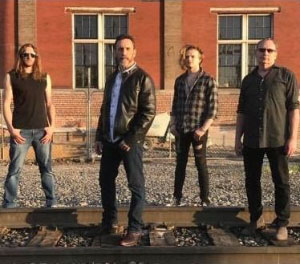 The Head Honchos Band brings to both the live music scene and recording experience, music based on intense body moving rhythms and emotionally charged guitar expressions.
Grounded on the foundations of American blues, rock, soul, and funk the Head Honchos Band launches every tune with an irresistible invitaion to kick back, let go, and enthusiastically enjoy!
Rocco Calipari's Detroit schooled vocals will leave no doubt of the unapologetic American identity we all experience. In an artistic celebration of our shared pride and joy. the Head Honchos Band covers some of our most loved standards, while introducing to an appreciative audience roots inspired new songs.
Do you want a good time? Are you looking for a great party? Do you enjoy the company of people who share your love of American music? If you said yes to any of these questions, you have to hear the Head Honchos Band!
---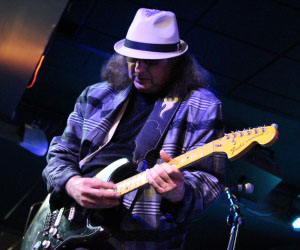 Born in Lexington, Kentucky but living in Cincinnati since 2000, Kelly Richey started playing guitar at the age of 15. The late Lonnie Mack was so impressed with her hyper-muscular playing and singing that he described her as "Stevie Ray Vaughan trapped in a woman's body." Listed among the "top 100 gifted guitarists" by the influential Truefire Community, Kelly frequently draws comparisons to guitar icons from Stevie Ray to Jimi Hendrix. Throughout her career, Richey has shared the stage with legends like Lonnie Mack and Albert King and has opened for Joe Cocker, Lita Ford, Johnny Winter, Edgar Winter, Walter Trout, Little Feat, Foghat, REO Speedwagon, George Thorogood, Average White Band, Robben Ford, Warren Zevon, and James Brown. She also performs as a solo artist, delivering electric blues that incorporates guitar looping and beat creation – or, for a more intimate evening of music and storytelling, stripped-down and earthy blues on her acoustic guitar.
---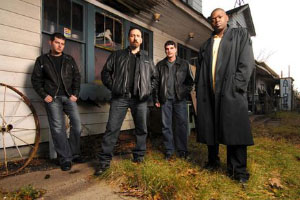 ---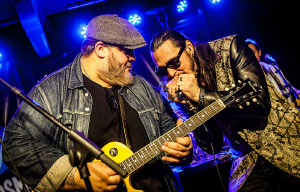 Chicago guitarist, vocalist and songwriter Nick Moss is a bona fide bluesman down to his soul, a 30-year veteran of the city's take-no-prisoners blues scene. Moss paid his dues gigging in Chicago's rough and tumble West and South side blues clubs under the tutelage of some of the city's greatest blues luminaries. Blues Revue says, "Nick Moss is at the top of the blues world...ambitious and intense...He can play traditional blues with the best." New Jersey's Dennis Gruenling is considered among today's best blues harmonica players. His high-energy, full-throttle playing has earned him comparisons to the late James Cotton. Living Blues says, "Dennis Gruenling is a contemporary harmonica master...impressive, genuine and fresh-sounding." Photo by Sven Erik Hagen.