The Bands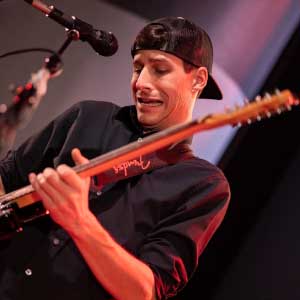 The Matt Kotinek Trio is a top-tier power trio from Granger, IN. The trio plays a fusion of modern blues, R&B, rock and jazz. The group features adept guitarist Matt Kotinek whose unique playing style is somewhere between Stevie Ray Vaughan and John Scofield. The rhythm section features the talented Johnny Slone on the Bass guitar and the steady Aaron Villanueva on the drums. The trio can be found turning heads and melting hearts at various venues across the Midwest. It's all about beautiful sounds, funky grooves, and howling solos.
---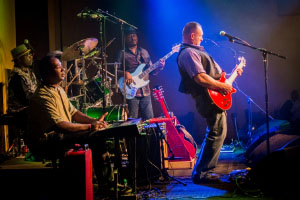 This act consists of national talents: Johnny B. Gayden - Alligator Records recording artist and bass player for "Albert Collins and the Ice Breakers"; Drummer Jerry "Bam Bam" Porter - toured with Buddy Guy for 14 years, Jerry has shared the stage with Eric Clapton, toured with Magic Slim and the Teardrops, Ronnie Baker Brooks, and currently fresh off touring with the late great James Cotton; Willie Styles on keys - Willie briefly toured with Robert Ward and is one of the premier and most sought out keyboard players in west Michigan.
J R Clark fronts the band on vocals and guitar. Melding a host influences such as, Michael Burks, Luther Allison, and Larry McCray, J R puts out a big sound of house rockin' blues, soul and southern rock of his own! J R has also toured nationally with Lil' Ed and the Blues Imperials. Performing at a host of festivals like South Bend Blues and Ribs festival at Coveleski Stadium, Kalamazoo Blues Festival, "Meet me on the Island" in South Bend , Lansing Chicken Wing Festival and many regional venues in IN, MI and IL. These guys are rolling and are always a crowd favorite. This high-energy act consisting of national and international touring artist's is sure to put a smile on your face and a groove in your step!
---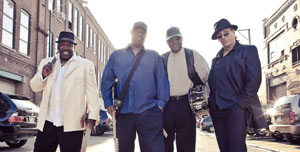 ---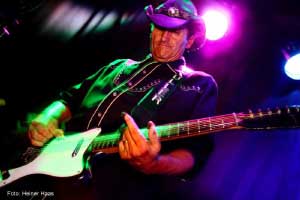 RAY FULLER from New Albany Ohio, was given his first guitar at the age of 8, a Gibson Melody Maker. At an early age, Fuller was inspired by the British Invasion; Rolling Stones, Yardbirds and the Animals bands. Fuller's first Blues album he ever heard was John Mayall and the Blues Breakers featuring Eric Clapton. "I could tell good blues guitar when I heard it...it was different."
Fuller's passion for the Blues was fueled with the discovery of the original Blues greats; John Lee Hooker, Muddy Waters, BB King, Elmore James. Young Ray Fuller was especially fond of John Lee Hooker.
The Ray Fuller Band was formed in 1974, evolving into Ray Fuller and the Bluesrockers in 1978; releasing a self titled album on vinyl and Fuller has not looked back since. Mastering his craft throughout the 80's and 90's, Fuller was quick to become the "go to act" throughout Ohio to open for iconic Blues musicians such as Muddy Waters, John Lee Hooker, Stevie Ray Vaughan, Buddy Guy, Junior Wells and Albert Collins to name a few.